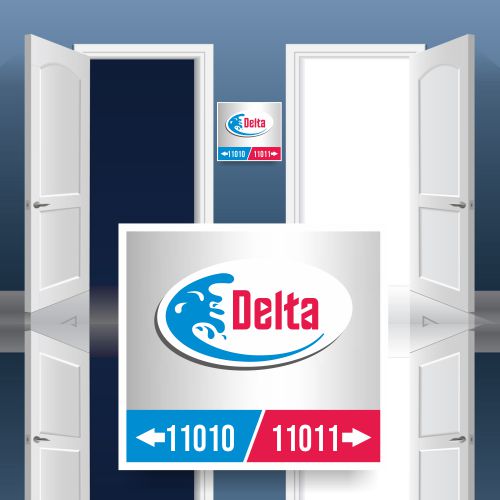 Office Signage / Direction / Instruction Design for Delta Cooling Tower, FRP Round & Square CT manufacturers from New Delhi India by Freelance Graphic & Signage Designer Creativo Camaal.
ABOUT DELTA COOLING TOWERS
Delta Cooling Tower P. Ltd. was incorporated in 1993 by entrepreneurs Mr. Yogesh M. Kaura and Mr. Manish K. Shihani to cater the industry where water cooled energy is required. Delta is recognized for manufacturing of FRP cooling towers, Non chemical Water Treatment Devices and spare parts, having state of art manufacturing unit in Delhi.
Delta is an ISO 9001:2008 certified company having its core competence in "CE" marked induced draught cooling towers. We have a core team of dedicated professionals who are qualified and experts in their respective fields. Delta has translated its vision into reality by increasing its national presence and global exposure through various associates.
Ever since its inception, the company has had an excellent track record because of its emphasis on quality and customer service. Within this period of fireless services in the industry, we have been emerged as one of the leading manufacturers of cooling tower.
We at Delta are committed to achieve and sustain a consistant and high quality of products and services to entire satisfaction of our customers. All our products are designed to ensure quite operation, dependable performance, long life and ease of maintenance. We are known for our best and prompt after sales service as an when required.